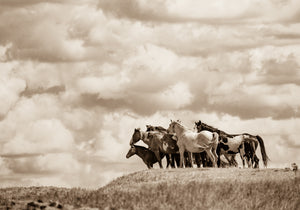 "On The Range III"
On top of a rolling hill the prairie grasses rustle in the wind and the views are spectacular. The band stays close together as they lean their heads on each others backs lulling themselves into a peaceful afternoon nap leaving their tails blowing in the wind without a care in the world.
Printed On Hahnemuhle Photo Rag Matt Fine Art Paper.
100% Cotton Rag.
Limited Edition of 25.
Prints are signed and numbered. Printed in my studio in Colrain, MA
A two inch border will be added around the image.
A Certificate of Authenticity will be included.