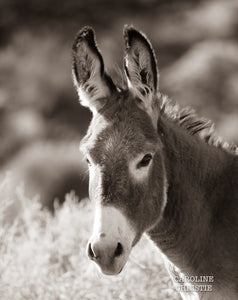 "Burro Beauty Mark"
Oh boy is it hard sometimes to identify wild burros.
Especially a band of grey burros! Maybe that's the reason why these beauties don't get much exposure...it's hard to find the same burro you met the day before and continue that burro bond! Who knows!
But not this burro, check out her burro beauty mark above her perfect little nostril!
All burros are one of a kind. xo
Printed on archival epson paper here in my studio.