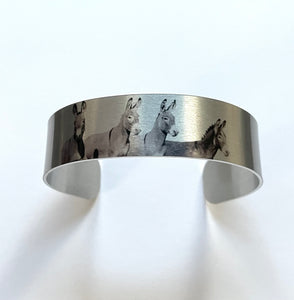 Wild Horse Aluminum Cuff Bracelets. All of the images on these unique cuff bracelets are wild horses and burros that I photograph.
 The bracelets are made from a natural metallic base.
Measurements: The width of the cuff is 5/8 inch. The entire cuff measures 6 3/4 from corner to corner. The cuff can be easily tightened or loosened by gently bending the metal in either direction.
Each cuff is individually wrapped in a gift box.
20% of the proceeds from each cuff are donated to wild horse and burro organizations. Please pick from the list of amazing organizations that you wish your proceeds to go to.