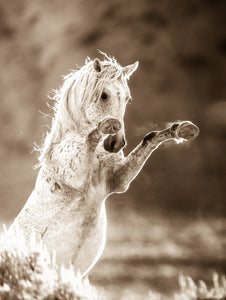 "Untamed Heart"
A wild stallion has one major goal in life: protecting his herd.
The adrenaline that manages this power of protection cannot be tamed.
The power and strength he possesses is extraordinary and unrelenting.
His soul is forever wild.
Printed On Hahnemuhle Photo Rag Matt Fine Art Paper.
100% Cotton Rag.
Limited Edition of 25.
Prints are signed and numbered. Printed in my studio in Colrain, MA
A two inch border will be added around the image.
A Certificate of Authenticity will be included.